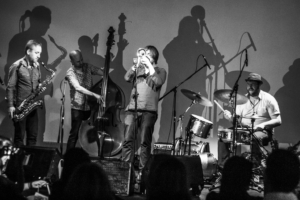 Dato:

03/05

Tid:

20:30

Entré:

Kr. 80 + gebyr,-

Venue:

Christianshavns Beboerhus
"Med fare for at gentage mig selv, så gør jeg det lige en gang til for en sikkerheds skyld; kalder Nacka Forum for Nordens free jazz supergruppe. Her mødes fire ligesindede jazzmusikere med masser af sjæl, respekt, vildskab, spilleglæde og en intuition for det knapt så forudsigelige.
De deler også glæden og evnen til, at spille free jazz der lugter af New York og 60'erne, når det filtreres gennem fire nutidige nordiske hoveder og kroppe." – Niels Overgaard, Jazznyt
Goran Kajfes – Trompet
Jonas Kullhammar – Sax
Johan Berthling – Bas
Kresten Osgood – Trommer
Nacka Forum is a critically acclaimed jazz group from Sweden. Founded in 1999 in Stockholm, the group started out by playing music by the great free jazz heroes such as Ornette Coleman, Art Ensemble Of Chicago and Sun Ra, but quite soon they started to play original music composed by the band members. Drummer Kjell Nordeson was replaced by danish drummer Kresten Osgood in 2012.
In 2002 Nacka Forum recorded their self titled debut, which received wide recognition and earned both a grammy nomination and ended up on several "best of the year" lists in some of the biggest magazines in Sweden.
That album was followed up by "Leve Nacka Forum" in 2005 and seven years later the band was back with "Fee Fi Fo Rum" and the most recent "Live in Tokyo" album (with special guest Akira Sakata). During 2016 the album titled "We are the world" was released.